DAM : Audio Pro, PKG, Trae Products
Distributor of the Audio Pro, PKG, Vogel's and Trae Products brands, DAM enjoys a reputation that combines know-how, responsiveness and ability to best meet the needs of its French customers.
Founded in 1974, DAM started out in distribution to specialize in the import / export of musical works, rapidly developing a commercial activity. Based in Lisses since 2006, the company carries its products in France as quick as possible, DAM has been collaborating with Vogel's for the past 17 years and its product portfolio is expanding and adapting to the changing needs of the company. Our philosophy is defined as: the passion of high tech, the passion of beautiful brands and the search for quality products.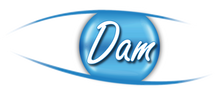 Add to selection