HALI-ANN TOOMS STUDIO
Our Copenhagen based studio is aiming to exhibit plants and everyday functional items in an exciting and unexpected ways.
HALI-ANN TOOMS STUDIO is working with interior plantscapes and home decor products. The studio creates minimal plant holders that are unique eye-catchers in every interior. Holders are designed in a minimalistic and pure form to highlight the special beauty of each plant. It is extremely important for us that the details are forethought and the products are of the highest quality. Moreover, the studio is offering customized plant design projects, consultation and installation.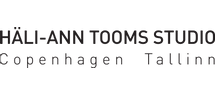 Add to selection