ICI ET LÀ - BARCELONA
ICI ET LÀ presents its new concept of custom made art from contemporary artists. Creation of unique art pieces and collections for specifiers and retailers. ICI ET LÀ is based in Barcelona and represents local artists and designers since 1995.
ICI ET LÀ supports and distributes art and handmade designs created in Barcelona since 1995. Our collection of small series, limited editions and unique pieces are the best choice for singular, colourfull and timeless interior designs. We provide the option of adapting models from our collections (painting, furniture, lighting and decorative objects) to suit the needs of our clients, whether professionals or private individuals. We also create and manufacture unique art pieces or bespoke designs for architectural projects, interior designs, decoration and retailers.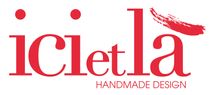 Add to selection