BOTTLELIGHT COMPANY DR. KITZENMAIER
" Give your winebottles a second life with our Bottlelights and you will have a unique and beautiful ambience for all occasions"
Bottlelight Company Dr. Kitzenmaier is a private owned development and production company, seated in Potsdam/Berlin, Germany. We are the manufacturer of the original bottlelight and viviLED table lamps and are selling worldwide. We are specialized in battery operated lamps - standard and rechargeable ones. Our customers are mainly museums, interior design and gift shops, hotels and restaurants. BOTTLELIGHT COMPANY bottle lamps are battery operated and fitting in all standard wine and champagne bottles. They are used for interrior decoration, garden partys and special occasions.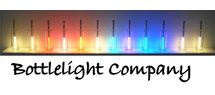 Add to selection