KENKAWAI - FINE JAPANESE GOODS
KENKAWAI presents a well curated selection of handwoven towels, charcoal products & natural incense with a distinctive sense of understated luxury - made in Japan.
KENKAWAI exhibits charcoal beauty goods, natural incense and handwoven towels from Japan that combine modern design with traditional craftsmanship. Kishu Binchotan - a charcoal stick made of holm oak is being used in Japan for many generations to purify, soften and mineralize water or to clean room air. Our natural charcoal incense gives room for contemplation. Binchotan Care Products are charcoal essentials for daily skin care. Kontex is a family-run company since 1934, weaving ultra soft and highly absorbent bath towels made of cotton and linen.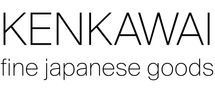 Add to selection