SHANNON KOSZYK COLLECTION
Fortune favors the bold.
Through a darkly romantic lens, SHANNON KOSZYK 's creations observe another time and place in history. Artisanal gothic anthropology is the best way to describe her provocative interpretation of ancient symbolism and nouveau art. She breathes new life into forgotten relics and iconography, enriching them with precious metals and gemstones. Her unorthodox designs celebrate the spirit and beauty of the individual.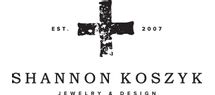 Add to selection