ABOUT FORM AND FUNCTION
ABOUT FORM AND FUNCTION is a new Danish design studio.
The philosophy, unfolds in the contrast between raw functionalism and a sensitive artistic nerve. About Form and Function's interior designs addresses a quality conscious audience. The studios work is part of a timeless universe which continues to develop and unfold. The products are a result of an experimenting approach towards materials, design and aesthetic. The products are reduced to the bare essentials, to ensure the most honest an efficient output. From us with love.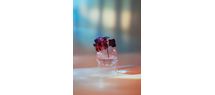 Add to selection