APOTHECA - LUXURY FRAGRANCES MADE IN PARIS
Rodolphe Borgniet, creator of fragrances and stylish interiors, presents Apotheca. By putting flora and fauna in bottle, Apotheca aims to be inspiring and elegant, like a symbol of «chic à la française».
Made with the greatest care by the best perfumers in Grasse, candles are poured into the purest tradition of French wax makers. Rodolphe Borgniet extended Apotheca to a lifestyle brand that now offers home textiles and linen decoration accessories. The color ranges respond harmoniously to the scents scented ranges. From curtains to pillows and curtains duvets, tablecloths and rugs, this collection made in France will mark interiors with a touch of casual elegance.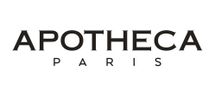 Add