DELIGHTFULL
The vision of DelightFULL is based on the best combination of design and high-quality art. Our mid-century pieces not only illuminate interiors but also add an opulent design to space with their unique shapes.
DelightFULL's Lighting reflects a personality, a frame of mind and strong emotions are present in each detail. DelightFULL is a fresh reinterpretation of mid-century lighting design, reviving design and inspirational art from the 40s to 70s, bringing to you fresh classic lamps with the progress of colors and materials of modern décor. DelightFULL's mid-century spirit can be suitable for any project customizing any piece that you need! Working with our hands we transfer our passion and devotion into everything we make and thus our masterpieces are born.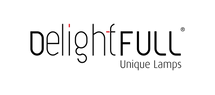 Add
News
01/09/2021 Minimalist Residence in Valencia by Studio Montañana

Timeless minimalistic is how this unique residential design by the renowned Studio Montañana is described. Located in one of the most emblematic buildings in Valencia, the beautiful interior design by Studio Montañana has respected its noble character through finishes, materials, and colors that manage to create an elegant atmosphere regardless of fashions or trends.

20/08/2021 Are You In A Hurry? | STOCKLIST

This fabulous selection of mid-century lighting pieces are ready to ship and prepared to enter your project in style. Don't waste any more time and see which light is going to elevate your design!

02/08/2021 The Perfect Minimalist Residential Project by Anastasya Valueva and Julia Kurepova

Minimalist Interiors with strong lines and neutral tones consist of calm, modern, and strong interiors. They are environments that reflect clarity and organization. And they stand out for the elegant way of presenting themselves.