MONDIART ART & DECORATIONS
Art & decorations. Inspired by the world, made in the Netherlands.
Some 30+ years ago a pioneer stepped on his bike with a few paintings. And now, after all these years, with a new generation to continue the company, there is a 1500m2 showroom with Canvas, Mirrors, AluArt, Gobelins, Walltextiles, Cushions, Art Carpets, Framings, Changeable Artframes and more. We design, develop and produce many of our products ourselves in our own 1500m2 workshop in Eindhoven. More and more of our products become circular. Take our Changeable Artframes. 100% recyclable, made for 66% from PET bottles. Hotel projects, White labels, Private labels, we can help you in many ways.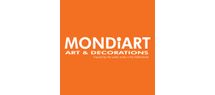 Add
News
23/06/2021 MONDiART Magenta catalogue AluArt

ALUART - A product that is made in our production facility. The AluArt team is led by two women. Why? Because they are so secure that only the best items leave our production. By the way, all guys are jealous because these two girls have the biggest machine in the company. A 14 meter long machine that lacquers all the AluArt panels. After that the mounting system is installed....

02/06/2021 MONDiART Magenta catalogue Canvas

The oldest profession in the world is not what you might think! It really is painter. Every now and then we read in the news that a centuries old mural was found in a cave somewhere in the world. A lot has changed since the old days. From charcoal to oil paint and from cave walls to canvas. We proudly present you the MONDiART canvas collection. Canvas makes wall decoration more personal.

02/06/2021 MONDiART Magenta catalogue Mirrors

Mirror, mirror on the wall who has the biggest collection of them all? That must be MONDiART. From mirrors that are in stock to mirrors that are produced especially for our customers. Almost every size, frame and color combination is possible. If we don't have it in stock, we can produce it. Looking for a special mirror for your own collection? No problem.