THE CRAFTSHOP VIENNA
Designed in Vienna, inspired by the world, handcrafted in a small workshop!
The CRAFTSHOP VIENNA creates timeless unique pieces. For the love of beauty and diversity, we design jewelry for all tastes (Bohemian, chic, classic and young)! We use different shapes and forms that inspire us during our travels and combine this with precious stones in the tradition of hand-hammering. Our secret ingredients? Love for beauty, passion for travel and craftsmanship!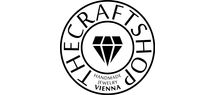 Add