TISSUS TOSELLI MARAT D'AVIGNON
Manufacturer of household linen, specialized in the Provencal universe. TISSUS TOSELLI offer to professionals a wide choice of quality textile products for home decoration and table.
The Toselli house, which has been in Nice since 1933, was one of the first to launch the modern Provencal fabric whose timeless figurative patterns of olive and lavender still sit on all tables. Three generations later, Toselli family continues this great tradition of the art of the table and carries the colors of the South. Today the collections that have made the reputation of Toselli House rub shoulders with a range of more contemporary fabrics. Well in tune with the times and inspired by the south that saw to born it, TISSUS TOSELLI invites Provence to your table.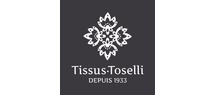 Add to selection