VALERIE COLAS DES FRANCS
Lights, colors, energy. The straw marquetry is renewed for a sober and chic environment, giving the daily a particular luster. VALERIE COLAS DES FRANCS revisits this practice and finally goes out the straw of the classic marquetry!
Straw has obvious interests in its light side, simple, adaptable, and in its current aspects in terms of natural and clean material. Straw offers the lag of time it is "rustic" and yet very modern or even modern. Creations around the movement and volumes, to give personality to the material with clean lines, and also mix with other materials such as metal, stone, leather. Realization of furniture, lighting, wall sconces, decoration, paintings, fashion accessories, creations or custom work.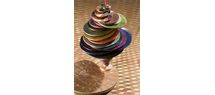 Add
Member of Ateliers d'Art de France
Collections