BAZAR BIZAR BOHO CHIC
Attending MAISON&OBJET
17-21 January 2020
UNIQUE & ECLECTIC Hall 5A — Stands S96 - T95
BOHO CHIC shopping!
BAZAR BIZAR takes you on far away journeys from Bali to Java, India to North Africa and astonish you with their beautiful BOHO treasures! Business owners Pascale Pelsmaekers and Eddy Roothaert, passionate travelers and entrepreneurs, bring you their self-developed, unique & handcrafted collection of decorative items where creativity, quality and harmony are central. Every product has its own story and is handpicked by Pascale & Eddy during one of their journeys. Sometimes they drive hours with their scooters deep into the Balinese in-land, to the most unique, handmade products.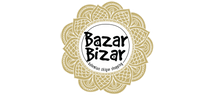 Add to selection
News
22/08/2019 Company vision for Bazar Bizar

BAZAR BIZAR, Antwerp designed, Bali made. From Indonesia with love, supplying Tulum, Ibiza, Mykonos, The Côte d'Azur, Costa Rica, Melbourne and all corners of the world. The most beautiful, high-end bohemian hand crafted items for your interior : table accessories and outdoor furniture, mirrors and lamps, all home industry made in Indonesia.