TELL ME MORE INTERIORS AB
The TELL ME MORE INTERIORS AB concept is to create functional products made of high-quality materials, in pleasant colours and shapes.
As a Sweden based brand, our inspiration, both for materials and expression, naturally comes from Scandinavian elements such as forest, sea and mountains. The base of the TELL ME MORE INTERIORS AB collection is a mix of earthy colours and organic shapes combined in a simple and light Scandinavian style. Our collection contains bed and decoration textiles, rugs and details such as baskets, candleholders and pots.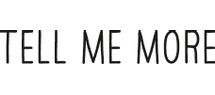 Add