AFKLIVING DESIGNER RUGS
How to transform a house into a cocoon for the whole family? AFKliving is a French brand of Scandinavian influence that offers rugs for the home and children that blend perfectly into a warm and friendly interior.
AFKliving offers a large selection of rugs for all tastes and budgets. From eye-catching and comfy models for the Kid's room to large size rug (custom-made or in-stock) that will be the centerpiece of design and warm living-room! Using environmentally friendly materials to give pride to the creation, the house spirit blends into the Scandinavian Hygge spirit that focuses on comfort, family, and well- being. Almost a philosophy of life! All at affordable prices. Discover our new collection that we created with passion!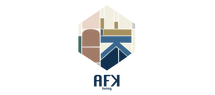 Add
News
03/09/2020 AFKliving- CATALOGUE 2021

AFK living rug collection fits all types of modern apartments. Using environmentally friendly materials, each collection is referring to a trip is linked to ancestral know-how. (Belgium, India, Morocco, ...) The feeling of well-being and happy mood is characteristic of the brand. The intimate and warm atmosphere that emanates from it has the particularity of comforting and providing conviviality.