GARDECO
Attending MAISON&OBJET
17-21 January 2020
TODAY Hall 6 — Stands E2
Take part in our art.
Making art more accessible to a broader audience, that's GARDECO's main objective. By introducing the larger audience to art with GARDECO's signature twist, they wish to let people take part in their art. GARDECO represents craftsmanship and a number of talented artists. Fresh, creative ideas meet high-end decoration. Every piece is made from fine materials such as ceramics, bronze and glass. They reflect core values such as respect and durability. The pieces of art evoke profound emotions, and they carry meaningful stories. Every piece is unique, handmade and one of a kind.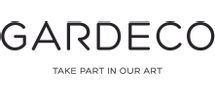 Add to selection
News
28/08/2019 Gardeco celebrates anniversary with limited editions of The Visitor

Gardeco's having a double party. They have been representing talented artists for twenty years and ten years ago, they started working with artist Guido Deleu, reproducing his bronze statue The Visitor. To celebrate this double anniversary, Gardeco is launching two new limited editions of The Visitor. Small size, large charity, covered with 24-carat gold leaf.