FRATI TEXTILES
FRATI TEXTILES presents beautiful and useful high-end interior home decor collection of blankets, throw blankets and pillows for passionate house lovers. The Collection is composed by blankets, throw blankets, pillows in different fibers.
The Company present a 100% Made in Italy collection for home decor. From 1968 FRATI combines innovative solutions, textile expertise and Italian style. The collection ranges from the light noble fiber collection in compositions with wool, cashmere, alpaca, linen, cotton, to innovative polar fleece mixtures, bio cotton knitted collections of soft, useful, trendy and high-end quality of unmistakable Italian style. FRATI TEXTILES, from the production of fabric to the packaging of the ready-made product, adds its blend of industrial skill and craftmanship to create a wholly Italian product.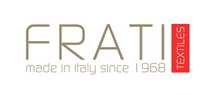 Add to selection
News
19/07/2018 SOFT BAMBOO COLLECTION

SOFT BAMBOO COLLECTION is dedicated to passionate houselovers. Our bamboo blankets and throws are soft and give comfortable good sensations for their unique softness .