MAGIC LINEN
MAGIC LINEN is a family run business based in Lithuania. We specialize in bespoke linen: home textiles, bedding, bath, table and kitchen linens, linen curtains and linen clothing for women.
We strive to be an ethical, sustainable and transparent business, thus our items are carefully handmade from high-quality "OEKO-Tex" certified linen with great attention to detail.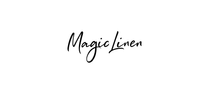 Add
News
11/09/2020 Introducing Tan and Clay - two new Fall-Winter '20 colors for your home

For Fall-Winter 2020 we would like to invite the warm and energetic presence of Tan and Clay colors into your home.