Parents talk about us...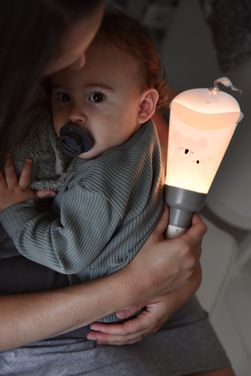 Add to favorite
Who better than parents to talk about our Passe-Partout lamp!
"My baby is very happy with her nomadic lamp. She immediately understood how it worked and turns it on at night for stories and in the morning when Mom and Dad take too long to get up. Thank you so much for this wonderful creation." "For breastfeeding in the middle of the night, this dimmed light is magical. And from the top of his 6 months Elio is captivated when I turn it on! Thank you very much. » "My son loves his lamp, it allows him to be independent in bed when he wakes up at night. Since we gave it to him, he doesn't come to our bed anymore .... Signed: A happy mom. » "As soon as she was born, she never left us. She is my breastfeeding best friend and is now an integral part of our daughter's bedtime ritual with torch reading. » "It follows us on our travels and helps night-time alarm clocks stay more peaceful! We're fans, Zélie carries it everywhere and loves to use it". "She followed us from everywhere (Shanghai, Dubai and the 4 corners of France)". Thank you all! Discover our products and let your imagination and your favorites guide you! Children and parents will thank you!