Stay neutral. But with style!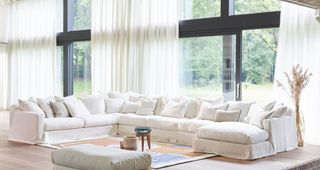 The secret to a flawless decoration? Explore the endless palette of whites, creams, grays, and woods! These are timeless values to mix and match, blending seamlessly into any interior. Discover the My Furniture is French selection.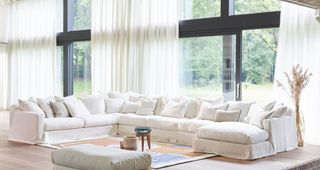 DRUGEOT MANUFACTURE
TEHEME bookcase
Sculpturale, la bibliothèque TÉHÈME semble taillée dans un seul bloc. Observé de plus près, le travail de l'ébéniste se révèle : assemblages précis, arrondis poncés à la main, croisillons à contre-fil. Animée par de beaux objets ou livres, la bibliothèque TÉHÈME devient une pièce majeure de votre décoration d'intérieur. DIMENSIONS H.220CM X L.60CM X P.30CM, POIDS 25kg - MATÉRIAU Chêne Français 100% massif issu de forêts gérées durablement FINITION Vernis mat. LIVRAISON Livrée montée INSTALLATION Autoportante, il est cependant conseillé de la fixer en un point au mur. Fabriquée en Anjou, France
OBJEKTO
Lagoa dining chair
Designed by Magnus Long, Lagoa is a low-stacking dining chair for cafés, restaurants and domestic interiors. Its form is inspired by the liquid lines of Rio de Janeiro and takes its name from the Lagoa (lagoon) district of the city.
DELAVELLE
Aix walnut armchair
The Aix armchair is an exceptional contemporary seat due to its invoice and comfort. Its solid walnut structure is made with the most careful cabinetmaking techniques. The rear foot is bent in a warm way to give it its curved shape. The filling is made on a strapped, elastic frame, lined with high resilience Bultex foam for optimal comfort. The upholstery is made with a wide choice of materials: wool, hemp, leather and fabrics made in France and available in many colours. It is also available in chair and oak.
GAUTIER OFFICE
Office FOLIO
Straight and clean lines, let yourself be seduced by this desk, consisting of a niche and a sliding drawer.
RM MOBILIER
Jordana Chair
Bistro chair for vintage and authentic restaurant environments. Beech structure tinted to choose from. Also available as a stool.
MEUBLES LOIZEAU
Dining room buffet or Enfilade BRIN DE FOLIE
L'enfilade BRIN DE FOLIE est design, sobre et efficace. Elle semble suspendue sur une ossature en bois massif très rassurante. Buffet de salle à manger ou enfilade multimédia dans votre salon, ce meuble s'intègre facilement à tous les types d'intérieurs. Des tiroirs cachés derrière les portes centrales offrent plus de facilités de rangements. Dessinée et fabriquée dans nos ateliers à La Romagne (49), elle est produite à la demande dans la configuration la plus adaptée à votre besoin. Assemblages traditionnels.
MAISON DRUCKER
Goffinet armchair
Rattan armchair designed by François GOffinet
ALKI
Triku Table
The Triku collection draws inspiration from dolmens (triku harri in Basque), prehistoric structures consisting of a large capstone resting on upright stones. The Triku series, which features simple, ample forms, is crafted out of the most traditional of materials: wood and wool.
FERMOB
MOOON! | Collection
Launched in 2017, MOOON! is Fermob's largest lighting collection! It offers a variety of lighting solutions for all types of scenarios (varying light temperatures, intensities, etc.). This collection includes seven lamps: 2 suspended lights, 1 wall light and 4 table/floor lamps. It meets all the requirements of decorative lighting for both indoor and outdoor spaces, adapting to each of life's moments. Equipped with Bluetooth technology, the lamps H63 & H134, the wall light and suspended lights can be controlled remotely thanks to the FERMOB LIGHTING application or the LUDO connected switch.
LAFUMA MOBILIER
SPHINX Armchair - Soft
Specially designed for your interiors, the SPHINX SOFT takes on the structure and shape of the iconic Pop-Up armchair by LAFUMA MOBILIER. Dressed in a generously sized felted fabric, it guarantees optimal seating comfort. Its extremely sturdy metal structure and elegant silhouette give a decorative touch to all your interior spaces. The SPHINX has a patented spindle folding system that is resolutely clever. The SPHINX feels at ease everywhere, you move it from room to room, as you wish... A designer armchair made in France that has become essential.
MATIÈRE GRISE
Hegoa sofa
Hegoa sofas are infinitely modular thanks to the numerous existing modules. Their galvanized steel structure and their cushions covered with Outdoor\ "ultra-resistant\" Sunbrella fabrics allow them to be placed both in the living room and in the garden. Structures available in our 40 colors, 19 Outdoor fabrics (other textiles on request). Made in France.
AZUR CONFORT
Wooden Deckchair CL104
La chilienne CL104 est l'un de nos modèles historiques. Grâce à son système de balancement naturel, elle vous accompagne dans vos mouvements et s'adapte aux différentes morphologies. Elle se replie manuellement et peut être entreposée à la verticale dans de petits espaces.La têtière amovible vous apportera un confort supplémentaire. Elle est constituée d'une mousse déperlante elle-même enveloppée d'une toile extérieure.Disponible en 5 couleurs. Structure en robinier, finition classique ou naturel. Bois massif issu de forêts gérées durablement. Garantie 2 ans.
NICOLLE CHAISE
CHAISE NICOLLE®: NICOLLE® METAL CHAIR H75
Une silhouette élégante pour cette chaise de bar adaptée à des hauteurs de plans comprises entre 100 et 110cm.Faible encombrement au sol, confort du dossier, style épuré et solidité à toute épreuve.Tout est réuni pour faire de cette chaise haute de bar un élément de décor incontournable.A la maison devant un bar ou à l'hôtel, au café ou au restaurant elle imposera son style contemporain et fort.
GAUTIER
SMART TABLE
Do you like to invite all your friends and family to share special moments? Gather them around a table as generous and convivial as you are. The SMART table is available in different sizes: S, M, L and XL. With its contemporary lines, this table will reveal all its splendor once placed in your dining room. Its unfinished look gives it a very natural style. The care taken with its finishes and the quality of its materials quickly reveal a subtle yet powerful charm.
CIDER
Josephine Bench
An additional bench with a young and dynamic spirit, Joséphine provokes an informal meeting between employees, for an impromptu discussion, an improvised creative exchange. Like a landscape, the elegant structure creates the horizontal when the soft cushions and shelves punctuate the verticals. The collinous line of the seat deforms and suggests new functionalities, at the rhythm of usage. Round cushions, flower tray and playful mirror tablet play between vegetable relaxation and work area.
EMDE
GOLD MIRROR 65X110CM
Miroir métal doré 65x110
GALEA
SERENA COFFEE TABLE
Metal base with walnut screen printing, 10mm tempered glass top thickness
BONNET MANUFACTURE DE LITERIE
Literie sur mesure
Literie Bonnet réalise tous les projets de literie sur mesure.
BURONOMIC HOME
Wire office
Its design is simple, airy, and minimalistic. Its base allows all types of audacity and can be personalized at will. Accompanied by a hook, hang pencil pots, satchel or plants to vegetate it. Wire offers a sufficient work surface without taking up too much space. It knows how to be discreet or very present, which allows it to integrate into any interior. THE
CVL LUMINAIRES
Atmos
The Atmos wall lamp is available in numerous finishes. Contact CVL Luminaires for any customisation information or technical data.