CARPYEN
CARPYEN is a family-owned, design lighting company celebrating its 70th birthday this year. You have a project, we can produce it for you.
CARPYEN develops its lighting collections with recognized designers and architects. Carpyen is a brand that has been a pioneer in lighting design from the beginning, and has for seven decades always remained true to quality, craftsmanship, creativity, innovation. emblematic of the alliance between art, craftsmanship and industry, from the classic standard to completely custom made items. Carpyen 100% made in Barcelona.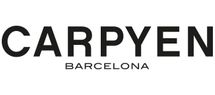 Add
Projects
News
20/01/2020 El Cubo - 1974 reedition

In 1974, the established Spanish designer Gabriel Teixidó imagined a lamp that allows the modulation of light intensity. On a slim metal profile, two half-spheres come to life with a simple gesture, for defining a softer atmosphere. Gabriel Teixidó's 2020 new interpretation lends the classic piece a sophisticated silhouette, in line with the essential design language of today.