L'ARTISAN DES LUMIÈRES
Contemporary French-made "steel and LED" luminaires, customizable as you like: shape, size, color, home automation, … with a premium finish. Artisan located in the south of France.
Engineer with an industry background, autodidact, passionate about working with steel since the beginning and having a shrewd taste for contemporary decoration, I perfectly master the qualities and constraints of a product or material. Jean-Pierre Bonnaure personally designs and manufactures luminaires which are definitely fashionable and combine the refinement of high-tech lighting with the nobility of an ancestral material.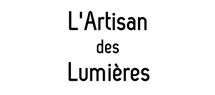 Add