FUN*DAS BCN
Prêt-à-porter baby gear for stylish modern families.
Fun*das bcn was born to make mums life easier, as well as making sure they still look good. We hand-make everything in Barcelona and we create prêt-à-porter baby gear for stylish modern families. We want our gear to be very soft & safe that's why we only use high-quality cotton fabrics from Spanish suppliers. Discover our new HOME collection to decorate your children's rooms and their home accessories with a total and cool Fun*das style!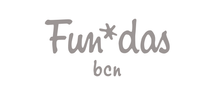 Add
News
18/09/2019 New Winter 2020 Collection

Fun*das presents its FW 2020 collection, with a Jardin de luxe & Japanese tradition as the key concepts for its exclusive collections. The new prints (Autumn Garden, Midnight Forest, Curry Flower) pay tribute to bouquets, to those floral blooms that conjure up images of luxury, romance, and bright colors. It also pays tribute to the traditional Japanese embroidery with its Sashiko print.

25/02/2019 New Summer 2019 Collection

Helen Lindes, the stunning international model, teams up with Fun*das bcn to present the summer 2019 collection that will delight everybody with 4 new prints whose goal is to encourage our awareness about the important changes our world is demanding – environmental protection, respect for natural resources and the need to adopt a quieter life, in harmony with our and nature's pace.