TETRAD AND SPINK & EDGAR
Anything Else is Just a Sofa.
At TETRAD, founded fifty years ago, we endeavor to give our customers the most beautiful British furniture by using the finest materials. Our long-serving team is dedicated to curating the best ideas and products that are both durable and timeless. Every piece is meticulously made by hand in the heart of Lancashire, England. SPINK & EDGAR Upholstery has launched a completely a range based on glamorous modern classics with an art deco twist. The collection features printed fabrics and sumptuous Italian velvet, combined with the award-winning SPINK & EDGAR pocket springs.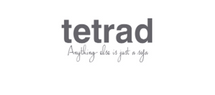 Add