MIRROR IN THE SKY CASHMERE
Inspiring Handcrafted Cashmere.
Born from a love of the Himalaya and the finest cashmere fibers, MIRROR IN THE SKY perfectly blends traditional craftsmanship and contemporary design. The people of the high Himalaya say the 'mirror in the sky' lets us see where we are, or where we belong in life. The 'sky-mirror' reflects our image showing our location as well as our values and ideas. Seeing our reflection, we begin to realize how we can enhance the life of others. For us, it is an expression of sharing and enhancing the best of both of our amazing worlds in Barcelona and Kathmandu.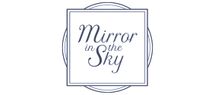 Add to selection