WONDER MACHINES
Challenge your perception.
We make objects combining technology, science and art, in order to remind us of the natural mystery, beauty, and wonder that surround us every day. Slow Dance, our flagship creation is a picture frame that makes real objects appear to move in slow motion. By taking advantage of the limits of human visual perception, this optical illusion sculpture appears to be doing the impossible. It's like nothing you've ever seen in real life. It looks like a picture frame, except that there's no picture and no glass — instead, two clips hold objects inside the frame.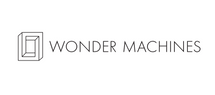 Add
News
03/07/2019 Wonder Machines

After a worldwide success on Kickstarter, artist and scientist Jeff Lieberman launches Slow Dance at MAISON & OBJET PARIS - SLOW DANCE, a frame that makes things move in impossible ways, is designed to rekindle a sense of mystery, beauty, and wonder in the everyday.