AWAGAMI
AWAGAMI Factory: 8 Generations and 300 years of Fine Papermaking and Design
AWAGAMI's Fuimori family has been continually making fine Japnese 'washi' paper for 8 generations in Tokushima. 6th generation papermaker, Minoru Fujimori was a Japanese "Sacred Treasure" by the Emperor. AWAGAMI produces washi from renewable fibers to create a variety of papers for interior design, photography and fine art art. The mill regularly collaborates with artists and designers exploring new washi concepts that may prove suitable for international creators. It is AWAGAMI's ongoing desire to create traditionally inspired washi for today's contemporary needs.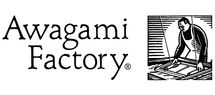 Add
News
28/12/2020 AWAGAMI JAPAN - NEW HANDMADE PAPER ART PANELS

Awagami Factory is pleased to offer new artworks created using a variety of papermaking techniques developed over the mills long creative history. These contemporary artworks are a visual testament to both Japanese papermaking tradition and recent art history - each work offering a unique aesthetic journey through texture, color, mood and composition.