ORIGINALHOME 100% ECO DESIGN
Present at Maison&Objet Fair
From 20-24 January 2022
HOME ACCESSORIES
Hall 4 — Stands G35
We love to living green and want to make this world earth & people friendly. We offer organic interior design that makes real impact and keeps your well being and that of others in mind. Together, we can change the world!
Organic design that has impact and gives back! We use earth friendly materials Nature is the origin of originalhome and we only use plants or rapidly renewable waste (no plastic!) for our designs. Low environmental impact production process During the production process, water, energy, CO2, chemicals and toxins are reduced, kept to a minimum or are avoided altogether. Caring for people and animals Poverty reduction through fair trade constitutes and no use of animal derived materials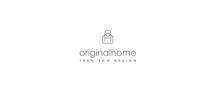 Add
News
09/09/2021 XMAS TREE CANDLES FOR AN ECO-FRIENDLY CHRISTMAS

Today, it is more important than ever to be a conscious consumer during holiday season but still give unique gifts. The Xmas tree candles try to fit into this niche of sustainable gift giving: a minimalistic candle that comes in two sizes and is made from certified palm wax made from palm kernel oil. Just like all our candles, the Xmas tree candles are handmade by craftspeople in Indonesia.