LA MAISON DE LA MAILLE
La Maison de la Maille is the very first responsible and committed luxury house. French manufacturing, exemplary working conditions, environment friendly and respectful of all lives are the non-negotiable principles of our brand's philosophy.
Exceptional high-quality fibers, Eco-friendly conception, lasting manufacturing, our plaids introduce a new vision of french savoir-faire. Absolutely convinced that commitment should be the top priority of any durable luxury brand, we have thought through and put in place a production process that is extremely qualitative, fair, transparent and durable. Our determination grew as strong as our products are comfortable and soft. Elegant and timeless, our items give a modern twist to knittings and are adorned with signature details: woven label, hand-darned edging, knitted monogram.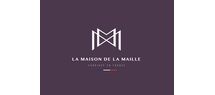 Add