TOMA JOHANNE HILGENFELD
Classic modern jewelry with an experimental twist, which presents quiet answers to that, what moves us inside.
TOMA JOHANNE HILGENFELD founded her own atelier in 2011 in Nuremberg. Her works are informed by clear lines and precise observation of her environment, she gives herself the search for the portrayal of value, and on this journey finds answers that lead to different bodies of work. Her one of a kind and limited edition pieces are underlined by the highest demands of precise craftsmanship, emanating a classic modernity with experimental traits that present a quiet answer to that, what moves us inside.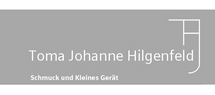 Add to selection