SEASON PAPER COLLECTION
For those who love patterns, SEASON PAPER COLLECTION imagines, produces and distributes a colourful line of paper goods and wallpaper made in France.
As SEASON PAPER COLLECTION, we imagine, create and distribute a delicate and colourful stationery and wallpaper line. Objects as companions, both intimate and universal, for all the sweet words, ideas, small touches. All our products are made in the four corners of France with the greatest care in concern for quality and respect for the environment.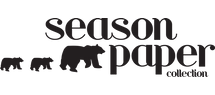 Add to selection