TRANSNATURAL
TRANSNATURAL, art & design balancing nature and technology.
The Transnatural collection offers extraordinary art, light, interior and outdoor design. The art & design products have an essential function and exceptional aesthetics. Fresh and innovative material concepts are a starting point for all kind of in- and outdoor features. The artists' production methods pay close attention to new, alternative energy and environmental friendly material resources. Transnatural serves a worldwide network of clients (retailers, galleries, architects, designers, consumers) and develops projects that reaches beyond any standard result.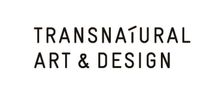 Add
News
04/09/2020 Transnatural launches fiive new designs

Transnatural showcases five new works by designers who take material innovation aas a starting point of their design process. By harnessing sustainable production methods and technological innovations, Transnatural cultivates forward thinking ways to (re-) design our living spaces.