EXCLUSIVE BRANDS TORINO
The Italian lifestyle constellation.
EXCLUSIVE BRANDS TORINO is the first network of Italian multi-sector companies which brings together high-end brands promoted by the Industrial Union of Turin. 19 companies operating in different sectors that share a select clientele and a strong international vocation. Exclusive Brands Torino members: Allure, Altec, Building, Cantine Bava, Caffé Costadoro, Guido Gobino, Krisitina T, Mattioli, l'Opificio, Nimbus, Lauretana, Oscalito, Pepino, Pininfarina, Pastificio De Filippis, Quagliotti, Quercetti, Relais San Maurizio, Tonatto.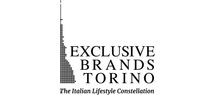 Add to selection