ABAT BOOK - ART FRIGO'
ART FRIGO is a self-produced design studio. ABAT BOOK are reading lamps that reproduce, illuminate, the most sought covers of famous books. Also shelves, tables, bags, scarves, fashion accessories. True luminous quotation of literature.
Classical novels and collections of poems become, thanks to ART FRIGO, a design object that is also a fascinating lamp to illuminate your reading. A special and inimitable object, produced by the studio ART FRIGO in his laboratory of Verona. An original design project based on photography and graphics as well as craftsmanship and made entirely in Italy, even on request. Each cover proposed as a lamp ABAT BOOK® has a history of philological recovery and integration of missing parts. Avalible customized ABAT BOOK® on demand, with books by readers, single or in limited editions.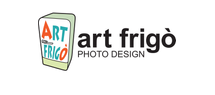 Add to selection