BRICKWALLS AND BARRICADES B.V.
Attending MAISON&OBJET
17-21 January 2020
COOK & SHARE Hall 3 — Stands D55
Crafted by hand and heart in Holland. At BRICKWALLS AND BARRICADES B.V. we believe there is a better way around the kitchen. We promote a more valuable and sustainable view on workwear while simply looking the part and standing out in the crowds.
All our items are proudly crafted by hand and heart in Holland. We're passionate about creating beautiful and honest aprons and related accessories of the highest possible quality. In our own manufactury, artisan crafts(wo)men merge our unique and special developed apron leathers into timeless one-of-a-kind pieces to last a lifetime. We create aprons that are authentic, comfortable, low maintenance and sustainable. Wether you're a chef, bartender, butcher, baker or barber, king of the grill or queen of the kitchen: we've got you covered!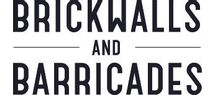 Add to selection