L'ATELIER DES CREATEURS
L'ATELIER DES CREATEURS is "the" marketplace 100% decoration dedicated to French creators and craftsmen.
L'ATELIER DES CREATEURS brings together passionate French artisans and supports them to enhance their creations, their stories and their skills. Our selection brings together a variety of materials in which warm or refined colors intermingle in order to offer a unique selection, suitable for all our living spaces. On our walls or on our tables, each luminaire expresses itself through its forms and lines, each object is found in your environment in a natural way.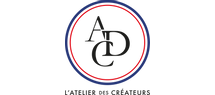 Add
News
03/09/2021 9 French artisans out of 300 will represent L'Atelier des Créateurs to unveil their exclusive creations

This 3rd participation of L'Atelier des Créateurs at the Maison & Objet fair will be marked by novelties combining modernity, revisited design and travel. Cushions in felted pebbles, delicate suspensions, lightings in steel sailboats, hypnotic lacquered candles, precious jewels through ancient sand casting techniques ... All these creations are made by hand by passionate craftsmen -

07/01/2020 L'Atelier des Créateurs invites itself to generations Y and Z

How does the L'Atelier des Créateurs Marketplace combine its digital facets to enhance the value of its craftsmen's hands? L'Atelier des Créateurs supports its creators and their unique creations by diversifying its online communication levers.

09/07/2019 L' Atelier des Créateurs: unique creations for all your living spaces

L'Atelier des Créateurs is the 100% decorative marketplace dedicated to French Art Creators and Craftsman. L'Atelier des Createurs values ​​the singularity of manual work, the authenticity of raw and natural materials. All creations are unique or in limited series.