TRADITION DES VOSGES
28/5000 Linen since 1856.
Located at the gateway to the Ballons des Vosges Natural Park, we have been making linen collections for over 160 years with the same fervor and passion. TRADITION DES VOSGES, today more than 180 people at your service including seamstresses who make carefully and meticulously beautiful home decorations. Know-how and innovation are our key words with a traditional and unique Vosges design, and collections adapted to the stylistic trends and expectations of each era.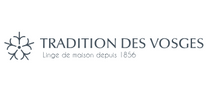 Add
Projects
News
22/06/2020 New !

New sets have arrived ! Printed, plain... There's something for everyone. Do not hesitate to contact us without further delay for more information !