ARTWALLCOLLECTION BY HANNEKE VAN DE POL
Love to combine art, design and antiques from different eras in your interior? Dutch designer Hanneke van de Pol is setting the tone with tailored wallcoverings, created to decorate luxury hotels, restaurants and private houses.
Artwallcollection is setting the tone. Lovers of art, antiques and design in the interior can have their hearts retrieve with the recently released new collection of wallcoverings, designed by Dutch designer Hanneke van de Pol. Whether you like Art Nouveau, Art deco, Modern or love to mix and match interiorstyles from different eras? The tailored Wallcoverings made by the designer are heaven if you are looking an easy to apply luxury wallcovering with the wow factor. Get inspired by the luscious collection.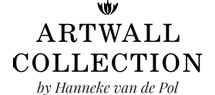 Add to selection