STUDIO FREDERIK ROIJÉ
Minimalist design furniture, lighting and outdoor product.
Studio FREDERIK ROIJE is a design studio that focuses on product and interior design. The approach is to reach a new level in product design and space. The collection is characterised by slick, clean and minimalistic designs. Besides working for clients it creates its own collection of furniture designs, which is sold and distributed worldwide under the name of FREDERIK ROIJE. The collection is composed of furniture, lighting and home accessories, and is renowned for its creative and innovative designs. Always willing to extend we are constantly developing new products.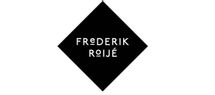 Add to selection