PANDA PAILLES
PANDA PAILLES offers a range of sustainable tableware to be used outside or at home to replace disposable plastic and reduce waste: glass straws made in France, bamboo straws, natural cutlery, coconut bowls... and nice sleeves sewed in France.
PANDA PAILLES is a French brand offering sustainable, pleasant and nice alternatives to disposable tableware to combine pleasure and eco-responsibility, at home and outdoor. We offer the first solution of reusable straws made in France: glass straws. Cleaning brushes, sleeves and cutlery sets are also made in France. We met and chose a family of artisans in Indonesia, committed to the environment preservation, for the manufacture of our straws, coconut bowls and natural cutlery.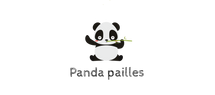 Add
News
02/03/2021 Collab Earthwake x Panda Pailles

Earthwake, the incubator of low tech innovations in the service of waste upcycling supported by Samuel Le Bihan, and Panda Pailles combine their worlds for a committed collaboration: - a pouch made in France + 6 bamboo straws with "J'aime ma planète", "Chaque geste compte" and "Sauvons nos océans" personalization + 1 cleaning brush => 2 € / pocket are donated to Earthwake

04/09/2020 Turn plastic straws into art

Replacing plastic straws on a daily basis with reusable solutions is a great step in reducing our waste but what to do with old plastic straws? Panda Pailles conducts a collection of plastic straws to transform them into a work of art!