DE WELDAAD AUTHENTIC INTERIOR
Timeless design, traditional techniques and natural materials. All our items are handmade, unique and have a special origin.
DE WELDAAD AUTHENTIC INTERIOR is home based in Amsterdam, The Netherlands. We travel the world to find inspiration. We develop our own designs and have them manufactured by people who work with age-old techniques for many generations. Together with them we create beautifully handmade home and lifestyle products. We are aware of fair trade. Come and discover our collection recycled glass, textiles, vintage, furniture and decorative home accessories.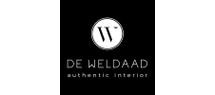 Add to selection