OUT OF ORDER
Present at Maison&Objet Fair
From 08-12 September 2022
SMART GIFT
Hall 1 — Stands D85
Don't be concerned about mishandling an OOO - Out of Order® creation, we've already done that for you.
OOO - Out of Order® Watches was founded in February of 2013, near Venezia, Italy, the birthplace of Marco Polo. And like other great Italians we are proud to be the first to bring you our OOO - Out of Order® Watch brand. In the highly competitive Watch World we were the first to design a watch with that old vintage charm, without compromising on the creations' quality.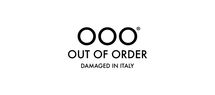 Add
News
29/04/2021 OOO GMT LOS ANGELES - NEW RELEASE

Inspired from the stunning City of Angels. Made & damaged in Italy, with love. #OOOGMTLosAngeles - Discover the wOOOrld with us.

28/01/2021 GMT PARIS - Official Release

Nowadays it seems hard to travel looking for new sunsets. We decided to represent them in our new models. Let's start with Paris. With that scent of warm bread that we find only there, with this sky that almost timidly fades from yellow to light blue that accompanies us in a night full of lights and colors. Blue and Red Numbers on the Bezel, yes this is France! New #OOOGMTParis - sunset inspired.