KANCHI BY SHOBHNA & KUNAL MEHTA
Founded in 1999, KANCHI is a collaborative genius of a mother-son duo whose combined experience and passion has redefined home furnishings.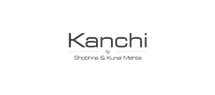 Add
News
05/12/2017 Press Release - Kanchi 2018

The Brand Kanchi by Shobhna & Kunal Mehta has been the trendsetter in the furnishing fabric business for almost 20years & has made its presence felt in the most prestigious shows in Europe, UK, US & Russia rubbing shoulders with biggest brands in the industry of fashion-furnishings & decor. Shobhna & Kunal have built their name with renowned Architects & Interiors designers world wide.