CAMERICH
Design for Desire
As a high-end furniture brand with an international vision, CAMERICH is committed to building a premium "modern lifestyle". It offers more than 100 products through the living room, bedroom, study and dining room product lines, and maintains a business network with over 100 stores in major cities across the world. CAMERICH believes in the "people-first" principle in every aspect of its product design, and continues focusing on the emotional appeal of the consumers.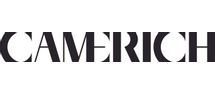 Add
News
21/10/2021 CAMERICH Présente le Salon d'art Contemporain 7/3

L'exposition d'art contemporain 7/3 de CAMERICH lancée le 14 août s'achève à Pékin. Comprenant 70 % de vie et 30 % d'art, cette exposition d'art est une rencontre transfrontalière entre l'art et les espaces domestiques et une exploration de la relation entre l'art, l'espace et la vie.

07/04/2021 CAMERICH Rejoint le CIFF Guangzhou 2021 avec de Nouveaux Produits

Du 18 au 21 mars, la 47e Foire Internationale du Meuble de Chine (Guangzhou) s'est tenue comme prévu. Après 12 ans, CAMERICH revient à la foire avec une « boîte blanche » et une douzaine de nouveaux produits qui mêlent la culture orientale et occidentale.

07/04/2021 CAMERICH participe au CIFF Shanghai 2020 avec des chaises BAIANA

Le 7 septembre 2020, la marque chinoise de meubles CAMERICH a dévoilé son nouvel espace conçu en collaboration avec Neri&Hu Design and Research Office lors de la 46e Foire Internationale du Meuble de Chine (Shanghai), soulignant la Chaire BAIANA.