MAISON KOICHIRO KIMURA
The ever-evolving relationship between man and materials is at the heart of our design. Pursuing quality with a high-quality taste, we create sophisticated items that inherit the orthodox aesthetics that are not affected by changes in the times.
KOICHIRO KIMURA's work is part of his continued pursuit to create art and design pieces that express the evolved relationship between man and object. He comes from a family with a 400-year history of producing traditional Japanese housewares. KIMURA brings such traditional techniques together with "high technology" to create works which can be seen at the MAISON brands, businesses and museums.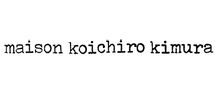 Add