EBARRITO RE:THINKING FASHION
RE-THINKING FASHION rethinking fashion through upcycling, the recycling of leather to create unique pieces. Onlyonepice for every woman.
Ebarrito is a company specialized in unique pieces, producing unique and never repeatable bags and shoes and using circular economy leathers from the best Italian luxury brands. We produce entirely in Italy and we market our product all over the world. We cater to customers who are looking for an exclusivity 'dictated by a strong character and personality'.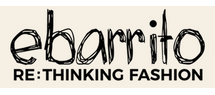 Add
Projects
News
13/05/2021 ebarrito in the farmhouse

The uniqueness and attention to the environment for Ebarrito begins with the choice of the company headquarters, which is in an ancient 18th century farmhouse. Typical structure of the Lombard countryside a few kilometers from Milan. Here Ebarrito built the headquarters and the showroom where he receives business customers. In this historical moment the desire to share this large space surrounded