J'VAIS LE DIRE À MA MÈRE !
Games to promote nomadic family outings but also daily exchanges.
J'VAIS L'DIRE À MA MÈRE! is a company based in the west of France, and offers fun, recreational and colorful games. A nomadic range to allow families to take them away and have fun on their journey. Funny characters just waiting to travel, go on an adventure with Gaspard the pirate, Theresa the ladybug and their companions. Nomadic slates, games of exchange and discoveries resistant to strawberry jam and chocolate, designed to be washed, are the infallible tools of parents to occupy children!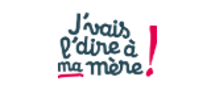 Add to selection