CAMILLE PIANEL MOTIFS
Have unique patterns, made to measure, for the wallpapers of your projects. Your customers have cravings, but you never find what they want. I propose you to accompany you in the development of their project.
I bring, in addition to your know-how, the creation of a customized wallpaper, designed to realize the project of your client. Pattern, colors, scale, width arranged to meet the expectations of your client and the specifics of his habitat. Each pattern starts from a drawing, which can be indefinitely in space and is not limited to the surface of the water. The repetition of the connection makes it possible to value the places and the furniture, the choice of life of your customer.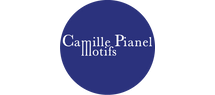 Add to selection
Collections
Projects
News
29/01/2020 Maison et objet fair january 2020

From January 17 to 21, one of the wallpapers of my snack was in the current state on the stand of the best off mon. The home and object Marketplace platform where you could find all my collection and the presentation of my wallpaper work.