ICEPAC FLOWERPAC
ICEPAC FLOWERPAC's construction is based on origami. It unfolds to take on the shape of a fabulous ice bucket or vase.
It is ideal for festive tables: you can refresh the sparkling bottles there, or place pretty flowers. Decorative and useful, the ICEPAC FLOWERPAC embodies good times and conviviality. It is an ideal gift for Christmas, but also for other occasions of the year: birthdays, Valentine's Day, Father's Day and Mother's Day, and all kinds of events.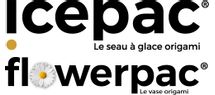 Add
News
10/07/2019 ICEPAC-FLOWERPAC, le vase/seau à glace en origami, dévoile ses nouveaux designs au salon M&O

Les Français sont toujours en quête d'objets design, pratiques et multifonctionnels. Pour répondre à leurs attentes, l'ICEPAC-FLOWERPAC est un seau à glace ou un vase en origami très design, qui peut être replié et rangé dans un tiroir après utilisation. ICEPAC-FLOWERPAC dévoilera ses 8 nouveaux designs de son objet à double emploi lors du salon parisien Maison & Objets, du 6 au 10 septembre.